SMART ELECTRONIC MOTOR CONTROLLER™ (SEMC®)
| | |
| --- | --- |
| | IS AN INNOVATIVE PRODUCT WHICH CAN REPLACE CONVENTIONAL SYSTEMS TAKING PART IN THE MARKET SUCH AS CONTACTS, RELAYS & SWITCHES THAT CAN CONTROL THE AC MOTORS WHICH ARE INSIDE THE MOTOR OR IN MOTOR CONTROLLER PANEL |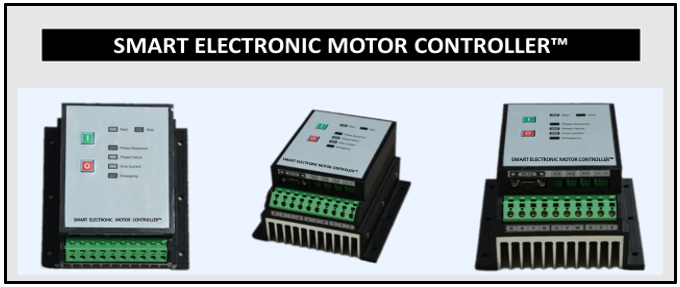 CONVENTIONAL MOTOR CONTROLLER SYSTEM: High cost & short life. Damages the motor windings lost time and money. Uses contact, relays, switches to control asynchronous motor.

SMART ELECTRONIC MOTOR CONTROLLER™
SEMC meets the requirement of the industry 4.0 including remote control of the motor, reporting motor operating data, changing the direction of motor rotation all this possible because of the use of microprocessor, peripherals and firmware build in.
SEMC checks through over current, phase break, malfunction of phase sequence very fast and super sensitive which prevents motor and equipment attached to it from getting damaged.
It shows the motor and the main supply malfunctions and motor information including voltage, frequency and cos ф.
It stays in protection mode and prevent electrical shock when the motor is not connected to the system follows the OHS rule.
Installation to the motor is less than 15 minutes.
Easy to install no need of know how simple connections as shown.
It takes little space in the panel.
Does not effect by ambient conditions
No Arc very safe to use in explosive & combustible environment.
TECHNOLOGICAL DETAILS:
DO NOT kick start the AC electrical motors that runs the machines, speed the motor up slowly like automobiles. Otherwise machine and its equipment's get damage over time and consume too much energy. Our SEMC runs the motor as intended with its microprocessor, peripherals and firmware..
At least 5 electromechanical devices consisted of contact, relays & switches are needed to control an asynchronous motor. Instead of this system, our SEMC which does not include any mechanical parts, consisted of only electronic parts are used.