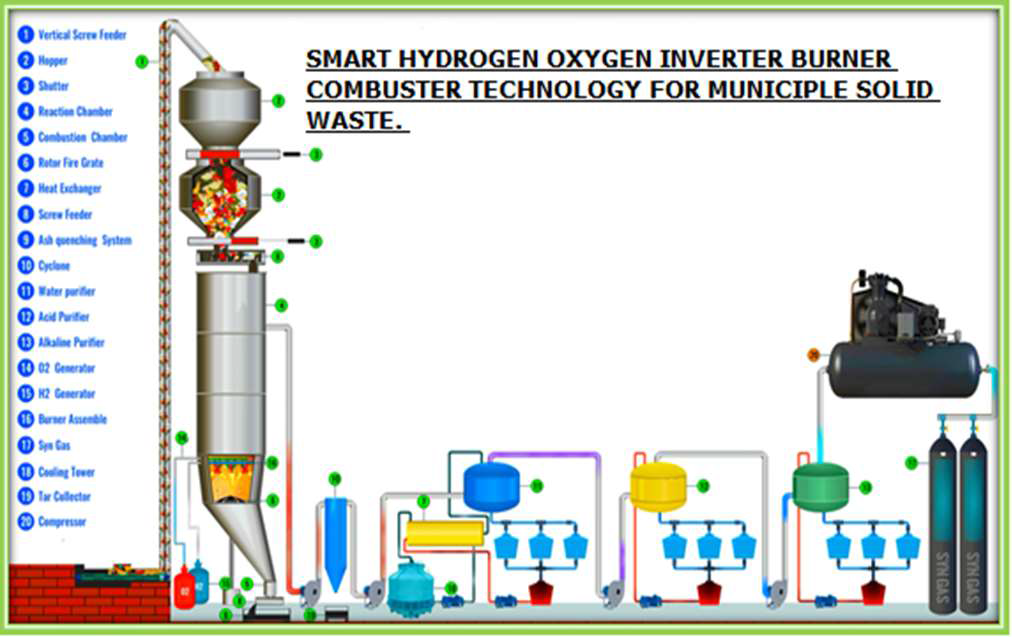 Figure: Schematic of Smart Hybrid solar thermal municipal solid waste power plant:
Municipal solid waste (MSW) Management system: The MSW is sorted at the municipal dump yard separated into organic, Inorganic, metal, paper, plastic, sand, stones and dirt. We take the organic 50%, Inorganic 10%, Plastic 10%, sand, stones & dirt 10% with 20% moisture the moisture id reduce by natural process and by using a shredding machine the Useable waste is shredded into acceptable sizes. This are packed into big bags and transported to the power plant site.
The Useable waste is dropped into the storage bin from here by vertical screw the waste is feed into the first hopper which has a stopper in the bottom once this hopper is full the stopper opens and drop the waste into next hopper at the bottom it has a shutter Once this hopper is full the shutter opens the waste travel through the horizontal screw feeder and drop the waste into the reactive chamber to rotor fire grate, combustion chamber the, screw to collect the ash, The gas is collected and passed through the cyclone, then water purification, acid purification, alkaline purification The hydrogen and oxygen is supplied from Hydroxy generator. The pure syn gas is compressed and can sold or used as the fuel for the power plant. 90 M tons of useable waste converts 75,000 m3 of syn gas which will produce 15.5Million KWh per system using 2.2MW Organic Rankine Cycle (ORC) turbine using organic fluid instead of super-heated steam.
MUNICIPAL SOLID WASTE – HAZARDOUS – MAJOR POLLUTION
CANCER – HEART ATTACK – RESPIRATORY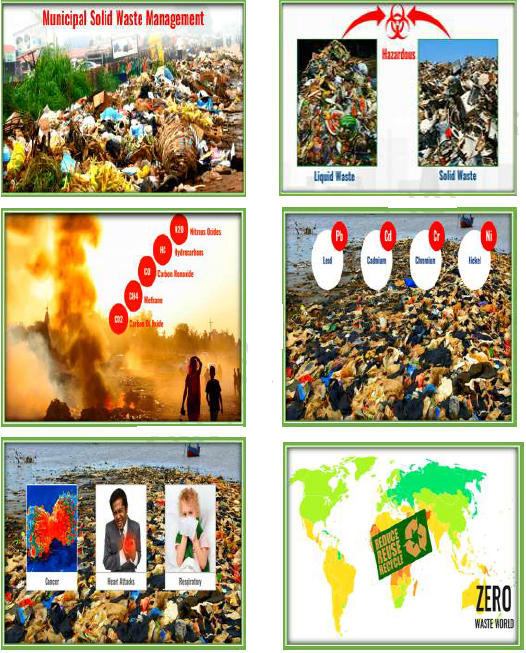 FIGURE: SHOWS THE EFFECT OF MUNICIPAL SOLID WASTE HAZARDOUS TO ZERO WASTE WORLDWIDE
MUNICIPAL SOLID WASTE SOLUTION SAVING OUR PLANET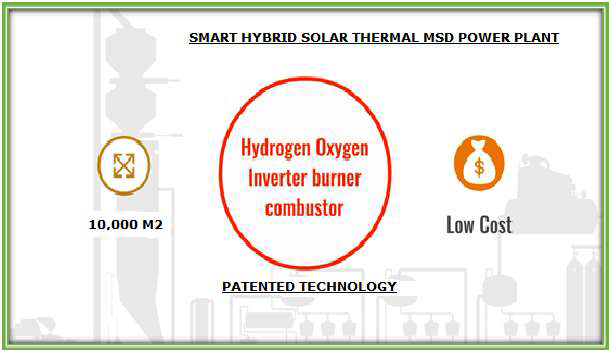 MUNICIPAL WASTE SORTING PLANT COLLECTION OF ORGANIC- NON ORGANIC – METAL
PAPER- PASTIC – GLASS- TREE WASTE- STONES & DIRT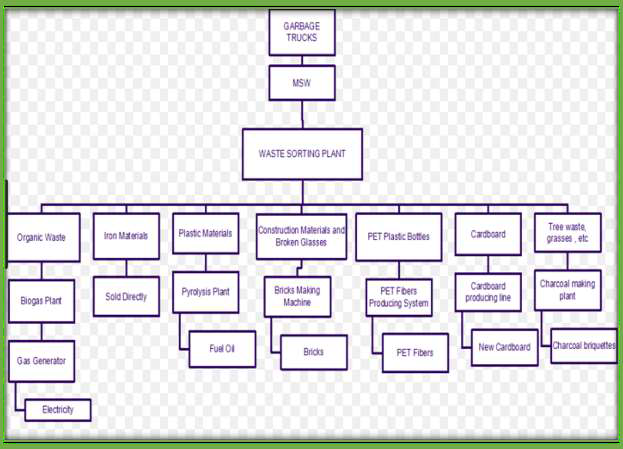 LAYOUT DIAGRAM OF SMART HYBRID SOLAR THERMAL MSD POWER PLANT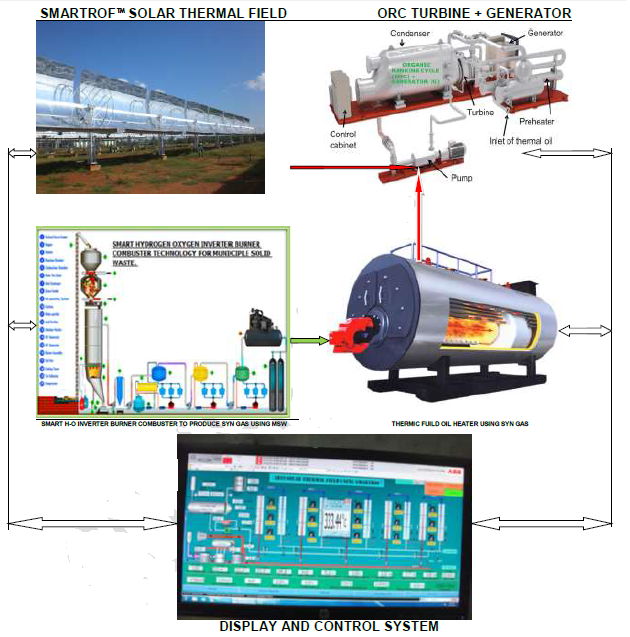 FIGURE 4: LAYOUT DIAGRAM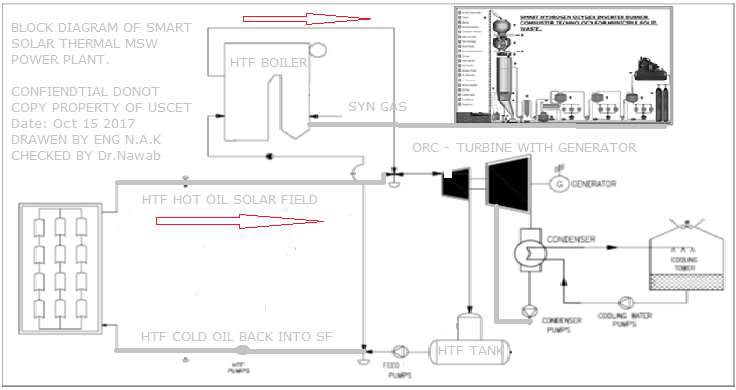 FIGURE: BLOCK DIAGRAM OF SMART HYBRID SOLAR THERMAL MSW POWER PLANT
Normal specification of MSW:
| | | |
| --- | --- | --- |
| 1 | Organic contents - | 50 % |
| 2 | Plastic contents - | 10 % |
| 3 | Moisture content - | 20 % |
| 4 | Inorganic and metal content - | 10 % |
| 5 | Sand and stone - | 10 % |
| 6 | Bulk Density - | 500 kg/M3 |
| 7 | Calorific value - | 3000 K.Cal/kg |
SHREDDER FOR 90 TONS PER DAY
TWIN SHAFT MSW SHREDDING MACHINE

INSTALLED AT THE DUMP SITE TO SHRRED THE MSW INTO SMALL PIECES AND PACKED IN BIG BAGS FOR TRANSPORT TO POWER PLANT SITE
OTHER PRODUCTS OF OUR GROUP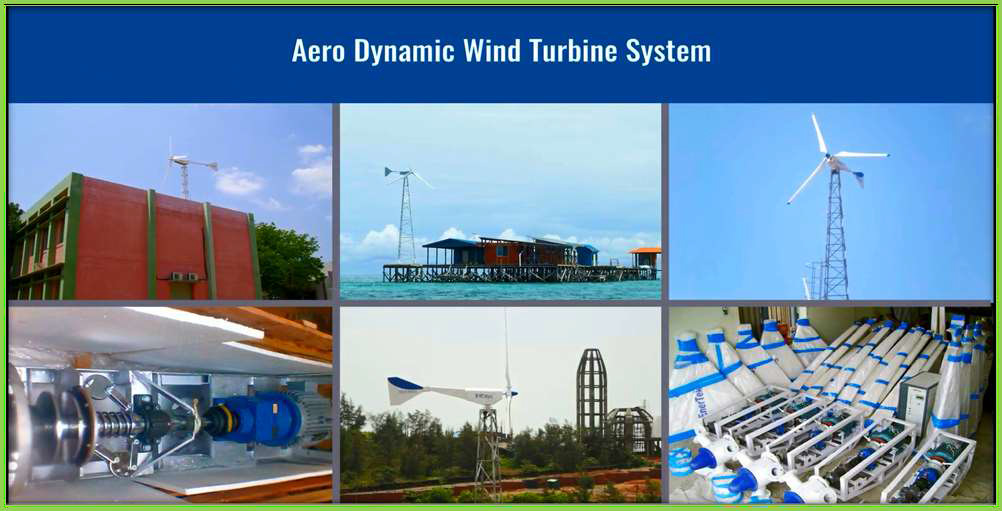 The best it is class and size easy to install comes in both vertical and horizontal setting. Maximum size 30KW. Many turbines are in operation mounted on the roof and on the ground and on the shore. For product information and enquire send email to info@cleanenerjy.com
SOLAR STILL POND: USING SUN ENERGY TO HARNESS FRESH WATER FROM
BRAKISH WATER. 2 X 3 METERS WITH 50MM DEEP GIVES YOU 300 LITERS OF H20.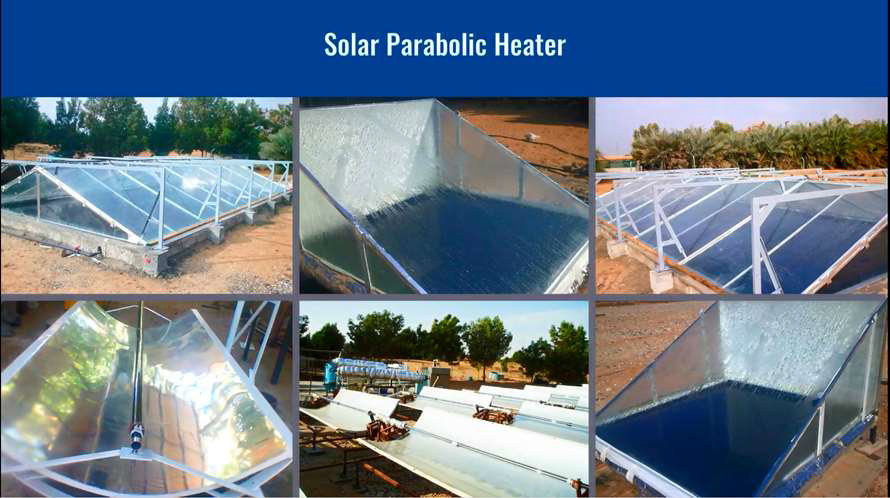 SMARTROF-MINI™: SOLAR PARABLOIC TROUGH SMALL SIZE BUT VERY EFFECTIVE CAN REACH HIGH TEMPEARTURES UPTO 300°C. EASY TO INSTALL ON THE GROUND AND ON THE ROOF. EASY TO CLEAN CLOSE TO THE GROUND. SMART SOLAR AIR COOLING SYSTEM™ USING THE ADSORPTION CHILLER. NO FOSSILE ENERGY NEEDED 100% RUNS ON SUN ENERGY. ROOF TOP OR GROUND MOUNTING AVALIABLE. HYDROXY GENERATOR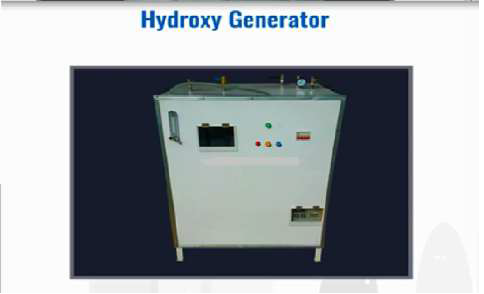 HYDROXY GENERATOR USED TO HYDROGEN AND OXYGEN.
ORGANIC RANKINE CYCLE TURBINE WITH SUPERSONIC AND AERO DYNAMIC BLADES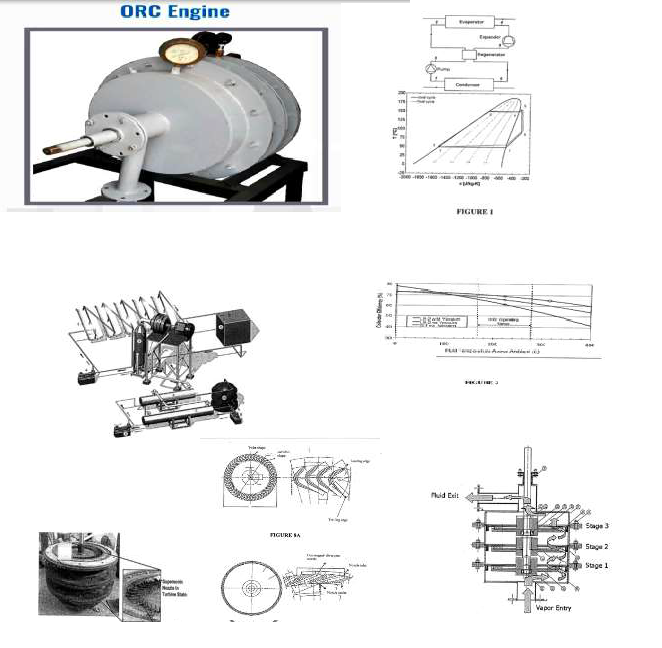 ORGANIC RANKINE CYCLE TURBINE: In the background of fast depleting fossil fuels, non conventional energy is gaining rapid prominence, Amongst the various alternatives, this is targeted for solar thermal power generation and for hybrid power generation using Bio Mass, Bio fuel, natural gas, syn gas, waste heat and geothermal energy.
One of the ways of thermal power generation with CSP( concentration solar power) or a hybrid combination of CSP and bio/gas/waste heat/geo is through the principle of the oraganic rankine cycle (ORC)
Organic rankine cycle(ORC) is a thermo dynamic cycle in which an oraganic fluid is evaporated ( to staurated state) and expanded through a trubine ( Rankine cycle) to generate power. The fluid is pumped to a boiler where it is evapored is passed through the turbine and is finally re-condensed to start the cycle all over again.The liquid vapor phase change, or boiling point occurs at a lower tempearture than the water staem phase change. The organic fluids cab be used at low temperature in the range of 120°C to 70°C and do not get superheated resulting in a higher efficiency of the cycle. The ORC is similar to the cycle of a conventional steam turbine except for the fuild that drives the turbine is environmental friendly oraganic fluid with a low boiling point. This allows the system to run efficiently at low temperature heat sources to produce electrcicity in a wide range of power outputs.